Miroslav Stoch
powered by FSAgency.eu
Profile
date and place of birth:
19th October 1989, Nitra, Slovak Republic
height and weight:
5ft 6", 132 lbs
marital status:
single
boots size:
7
jersey number:
9
position:
striker, right-footed
football idols:
Ronaldo in the past, now Ronaldinho and Cristiano Ronaldo
nickname:
Miňo
2006 World Champion pick: Brazil
favourites:
clubs: Chelsea, Barcelona
colour: blue, white
meal: breaded chicken breast with rice
drink: Vinea, Kofola
movie: no particular, I like comedies and horrors
music: I listen to everything acceptable
Curriculum Vitae
Miroslav Stoch was born on 19th October 1989.

Miňo, as he´s been called by his sister Mirka and other relatives, was given an extraordinary portion of talent. This was discovered by his father Miroslav, keen on cross motorbikes in his youth, who brought his son to Nitra football academy, known craddle of skilled footballers at the age of six. Miňo was never attracted by anything else than a football, and thus became known among people of Kalvária where he lived.
In 1997, he wore Nitra jersey for the first time, fighting for his hometown at a youth tournament in Austrian Parndorf. The team built around Stoch, Kollár and Jiránek won the tournament without letting the opponents score! Victories and inividual awards encouraged Miňo to practise harder, always accompanied by his father. Later, he started to come to practice by his bicycle or by 7 bus line which stops near the training centre in Sihoť.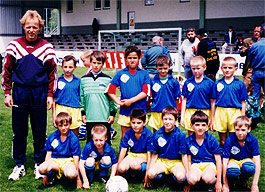 He always arrived in time, to have a few shots just before practice with his friends, and win their regular knock-out challenge. This is what helped him develop his sixth sense for goals , loads of which he scored on every youth team he played. Miňo´s football age ran faster than biological and every season he was on a team with older teammates - despite this he always became top goalscorer. This has been carefully seen and watched by coaches Maroš Pográn, Bečica, Jozef Ivan, Kamil Chatrnúch, Alfonz Višňovský, Miro Gerhát, Tomáš Seko, Rasťo Bôžik, Oto Brunegraf and Róbert Barborík, all of whom helped and contributed to Miňo´s right football growth.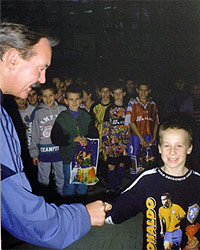 First appearance on A team dates back to fall of 2004, a few days after he scored all three goals of his U17 team in the match against Slovan Bratislava (3:1). At that time, A team of FC Nitra was reaching Corgoň Liga, Slovak premier league - Miňo could not play though, as he had not arrived at 16 by that time which is the age limit in men´s category in Slovakia. At last, the long awaited 16th birthday came on 19th October 2005 and two weeks later Miňo earned his premiere experience, appearing in a third-round cup match against Dubnica (2:1). Besides this, he added other three league appearances (against Trnava, Žilina and then defending champion Petržalka). On A team he was no star and did not want to act like one, because he suddenly found himself among players formerly watched and admired from the stands only. Miňo was glad to take away the cones, collect shirts or count the balls after A-team´s practice.
In april 2006 Miňo signed a contract with Milan Lednický, FIFA licensed agent who stood by Miňo´s international football steps. These led first to Nice (France) where he joined a training camp in summer of 2006. The French would have been happy to have him in their squad, but then an opportunity arose for Miňo to try it another bit further in the west - in football´s home country. And not in "a club" - Miňo knocked on the door of billionaire FC Chelsea - club which at that time was clinching English title after long 50 years. On youth teams of the club from Stamford Bridge Miňo played several friendlies in which he immediately persuaded. His transfer became just matter of time and after medical tests could come true. Care after Miňo is excellent in London and the only thing for him to care fully about, is football. To go in for his future.
Matches
Prev
Next
PAOK
1 Jul 2020
Superleague
0:2
Miroslav Stoch: 73 '

AEK

OFI Crete
4 Jul 2020
Superleague
2:2
Miroslav Stoch: 61 '
PAOK
PAOK
8 Jul 2020
Superleague
0:0
Miroslav Stoch: 61 '

Panathinaikos
Olympiakos
12 Jul 2020
Superleague
0:1
Miroslav Stoch: 71 '
PAOK
Liberec
3 Oct 2021
Česká liga
0:2
Miroslav Stoch: 75 '
Ostrava

Slavia
16 Oct 2021
Česká liga
3:1
Miroslav Stoch
: 70 '
Goal
Goal,
Yellow card
Yellow card
Liberec
Latest video
Miroslav Stoch - Goal against Slavia Prague