Miroslav Stoch
powered by FSAgency.eu
Stoch, the assist-king
Autor: FSA, 13.02.2019
It´s not only scoring goals, what makes Miro special in Slavia this season.
Official website of Czech league revealed statistics of players who gave most assists on goals in recent period. Miro made three GA in last five games and added 6 assits on goal chances, as well as 16 passes into the box.
Although he missed most of the pre-season due injury, these numbers reflect that Miro is back to good shape on the season´s 2nd leg start.
He assisted on game-winning goal against Teplice in the first competitive game of 2019.
Miro has 11 goals and 6 assists on his statistics record, what makes him 2nd top scorer in Czech league.
Good luck in the rest of the season!

Autorské práva Football Service Agency (F.S.A., s.r.o., Mostná 60, 949 01 Nitra, IČO: 36 546 291). Všetky práva vyhradené. Akékoľvek použitie častí textu a citácií v inom ako uvedenom kontexte, ich rozmnožovanie a šírenie bez predchádzajúceho písomného súhlasu F.S.A., s.r.o. je zakázané.
Matches
Prev
Next

Plzen
17 Feb 2019
Česká liga
2:0
Miroslav Stoch: full time

Slavia

Genk
21 Feb 2019
UEFA Europa League
1:4
Miroslav Stoch: 63 '2 goal assists!

Slavia

Slavia
25 Feb 2019
Česká liga
4:0
Miroslav Stoch: full time2 goal assists!

Slovacko

FC Sevilla
7 Mar 2019
UEFA Europa League
2:2
Miroslav Stoch
: full time
Goal
Goal+ goal assist !

Slavia

Slavia
14 Mar 2019
UEFA Europa League
4:3 AET
Miroslav Stoch: 93 '

FC Sevilla
Slovakia
21 Mar 2019
Team Slovakia
2:0
Miroslav Stoch: 79 '

Hungari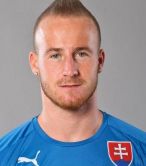 Miroslav Stoch
| | |
| --- | --- |
| Born | 19.10.1989 |
| Height | 168 cm |
| Weight | 64 kg |
| Post | winger |
| Club | SK Slavia Praha |
| | Player profile » |
Latest video
Miroslav Stoch - Goals against Dukla Prague and Slovan Liberec