Miroslav Stoch
powered by FSAgency.eu
Miňo secures Slavia promotion
Autor: FSA, 15.12.2018
Slovak international scored on Thursday his 12th seasonal goal against Zenit St. Petersburg in Europa League´s last matchday.
Slavia beat Zenit 2-0 and secures the ticket for next year´s play-off. "Great success for our club. I am so happy for that," says Miroslav, who scored amazing goal at the end of the first half.
"It was little bit crazy situation. We had a corner but lost the ball. Fortunately, we stopped the breakaway and Coufal passed a ball to me. There was a lot of space. I had cut it inside and shot with my left to the far post," describes Miroslav his masterpiece. The ball hit the post and curled into the net.
"We are looking forward to Monday´s draw. For our fans I would be happy if we get an attractive team. There is many to choose from. We will see, for sure it would be specific to play against Chelsea," added Miroslav.
Pictured by Slavia.cz

Autorské práva Football Service Agency (F.S.A., s.r.o., Mostná 60, 949 01 Nitra, IČO: 36 546 291). Všetky práva vyhradené. Akékoľvek použitie častí textu a citácií v inom ako uvedenom kontexte, ich rozmnožovanie a šírenie bez predchádzajúceho písomného súhlasu F.S.A., s.r.o. je zakázané.
Matches
Prev
Next

Plzen
17 Feb 2019
Česká liga
2:0
Miroslav Stoch: full time

Slavia

Genk
21 Feb 2019
UEFA Europa League
1:4
Miroslav Stoch: 63 '2 goal assists!

Slavia

Slavia
25 Feb 2019
Česká liga
4:0
Miroslav Stoch: full time2 goal assists!

Slovacko

FC Sevilla
7 Mar 2019
UEFA Europa League
2:2
Miroslav Stoch
: full time
Goal
Goal+ goal assist !

Slavia

Slavia
14 Mar 2019
UEFA Europa League
4:3 AET
Miroslav Stoch: 93 '

FC Sevilla
Slovakia
21 Mar 2019
Team Slovakia
2:0
Miroslav Stoch: 79 '

Hungari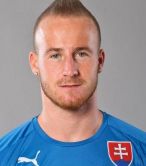 Miroslav Stoch
| | |
| --- | --- |
| Born | 19.10.1989 |
| Height | 168 cm |
| Weight | 64 kg |
| Post | winger |
| Club | SK Slavia Praha |
| | Player profile » |
Latest video
Miroslav Stoch - Goals against Dukla Prague and Slovan Liberec