Miroslav Stoch
powered by FSAgency.eu
Miňo makes the victory
Autor: FSA, 21.10.2018
Slavia Prague grabbed another three points today in Liberec, thanks to Stoch´s excellent free kick.
Liberec is always tough opponent, especially on their home ground. Shock for home fans came in the early beginning when Miroslav Stoch executed free-kick from edge of the box.
"It was not easy, because the wall was very wide and so close to me. Goalkeeper could not see nothing and that´s why I tried to hit the ball very lightly, just to send it near the post," says Miňo, whose opening goal turned game-wining as well.
Picturedy by slavia.cz

Autorské práva Football Service Agency (F.S.A., s.r.o., Mostná 60, 949 01 Nitra, IČO: 36 546 291). Všetky práva vyhradené. Akékoľvek použitie častí textu a citácií v inom ako uvedenom kontexte, ich rozmnožovanie a šírenie bez predchádzajúceho písomného súhlasu F.S.A., s.r.o. je zakázané.
Matches
Prev
Next

Genk
21 Feb 2019
UEFA Europa League
1:4
Miroslav Stoch: 63 '2 goal assists!

Slavia

Slavia
25 Feb 2019
Česká liga
4:0
Miroslav Stoch: full time2 goal assists!

Slovacko

FC Sevilla
7 Mar 2019
UEFA Europa League
2:2
Miroslav Stoch
: full time
Goal
Goal+ goal assist !

Slavia

Slavia
14 Mar 2019
UEFA Europa League
4:3 AET
Miroslav Stoch: 93 '

FC Sevilla
Slovakia
21 Mar 2019
Team Slovakia
2:0
Miroslav Stoch: 79 '

Hungari

Slavia
11 Apr 2019
UEFA Europa League
0:1
Miroslav Stoch: 65 '

Chelsea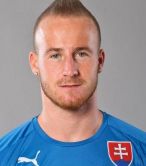 Miroslav Stoch
| | |
| --- | --- |
| Born | 19.10.1989 |
| Height | 168 cm |
| Weight | 64 kg |
| Post | winger |
| Club | SK Slavia Praha |
| | Player profile » |
Latest video
Miroslav Stoch - Goals against Dukla Prague and Slovan Liberec