Miroslav Stoch
powered by FSAgency.eu
Good performance in Zenit
Autor: FSA, 05.10.2018
Miroslav Stoch was one of the best players in Europa League clash Zenit vs Slavia (1-0).
Miňo was putting all his efforts, but simply could not score on Thursday´s night. His shots from outside of the box were denied by the keeper or hit the bar.
Especially the long-range attempt from 25th minute shocked the Zenit Stadium.
"Just unlucky. When you hit the bar, it´s always the question of few centimetres. My shot hit the bar, unfortunately. I think we deserved the opening goal, because we were doing good job. This is football, sometimes you play good but lose," says full-time Miroslav.
Miňo met his former teammate Branislav Ivanović, who is now player of Zenit. They have met in Chelsea ten years ago.
"We´ve talked little bit after the final whistle and changed our shirts. Was nice to meet him after long time," added Miroslav.
Headline picture by SK Slavia Facebook page

Autorské práva Football Service Agency (F.S.A., s.r.o., Mostná 60, 949 01 Nitra, IČO: 36 546 291). Všetky práva vyhradené. Akékoľvek použitie častí textu a citácií v inom ako uvedenom kontexte, ich rozmnožovanie a šírenie bez predchádzajúceho písomného súhlasu F.S.A., s.r.o. je zakázané.
Matches
Prev
Next

Karvina
24 Nov 2018
Česká liga
1:3
Miroslav Stoch
: full time
Goal
Goal

Slavia

Bordeaux
29 Nov 2018
UEFA Europa League
2:0
Miroslav Stoch: 77 '

Slavia

Opava
3 Dec 2018
Česká liga
2:3
Miroslav Stoch: full time

Slavia

Slavia
8 Dec 2018
Česká liga
3:2
Miroslav Stoch
: full time
Goal
Goal+ assist. Man of the match!
Mlada Boleslav

Slavia
13 Dec 2018
UEFA Europa League
2:0
Miroslav Stoch
: 90 '
Goal
Goal,
Yellow card
Yellow card

Zenit

Slavia
10 Feb 2019
Česká liga
2:0
Miroslav Stoch: 46 'goal assist

Teplice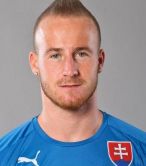 Miroslav Stoch
| | |
| --- | --- |
| Born | 19.10.1989 |
| Height | 168 cm |
| Weight | 64 kg |
| Post | winger |
| Club | SK Slavia Praha |
| | Player profile » |
Latest video
Miroslav Stoch - Goals against Dukla Prague and Slovan Liberec