Miroslav Stoch
powered by FSAgency.eu
Miňo scores at new Nitra stadium
Autor: FSA, 09.09.2018
Miroslav Stoch was a key person in opening ceremony held in new Nitra stadium last Friday.
Wearing Slavia´s kit with armbrand and playing key role in visitors 2-0 victory. Miňo Stoch scored and assisted in friendly game against his mature club.
"Time goes by very fast. It´s been more than 10 years since I left this city and FC Nitra," says Miroslav.
"I enjoyed the game despite it was only friendly. My aim was to score on brand new stadium which is very nice. Nitra is my favourite city, place where I was born and I think i will come back one time and play for this club. That could be a great career finish."
"All my efforts now go to Slavia. Last year we have won the Cup and earned ticket to group stage of Europa League. I would like to win the championship title this year," added Stoch, determined.
More players from our company played in FC Nitra´s new stadium opening game, incl. goalkeepers Hroššo and Šípoš, young international Chobot or Ukrainian Illya Cherednychenko. Centre back Richard Križan and striker Tomáš Vestenický were missing due U21 international duty.
Picture source - Instagram minostoch99

Autorské práva Football Service Agency (F.S.A., s.r.o., Mostná 60, 949 01 Nitra, IČO: 36 546 291). Všetky práva vyhradené. Akékoľvek použitie častí textu a citácií v inom ako uvedenom kontexte, ich rozmnožovanie a šírenie bez predchádzajúceho písomného súhlasu F.S.A., s.r.o. je zakázané.
Matches
Prev
Next

Genk
21 Feb 2019
UEFA Europa League
1:4
Miroslav Stoch: 63 '2 goal assists!

Slavia

Slavia
25 Feb 2019
Česká liga
4:0
Miroslav Stoch: full time2 goal assists!

Slovacko

FC Sevilla
7 Mar 2019
UEFA Europa League
2:2
Miroslav Stoch
: full time
Goal
Goal+ goal assist !

Slavia

Slavia
14 Mar 2019
UEFA Europa League
4:3 AET
Miroslav Stoch: 93 '

FC Sevilla
Slovakia
21 Mar 2019
Team Slovakia
2:0
Miroslav Stoch: 79 '

Hungari

Slavia
11 Apr 2019
UEFA Europa League
0:1
Miroslav Stoch: 65 '

Chelsea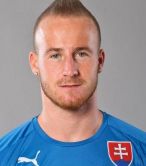 Miroslav Stoch
| | |
| --- | --- |
| Born | 19.10.1989 |
| Height | 168 cm |
| Weight | 64 kg |
| Post | winger |
| Club | SK Slavia Praha |
| | Player profile » |
Latest video
Miroslav Stoch - Goals against Dukla Prague and Slovan Liberec