Miroslav Stoch
powered by FSAgency.eu
Trophy number seven
Autor: FSA, 11.05.2018
Miňo Stoch scores 1+1 as his Slavia Prague beat FK Jablonec 3-1 in Czech league cup final.
It took more than 16 years to see Slavia on the top of domestic cup competition. Miroslav Stoch played a key role again and helped to outshoot Jablonec with a goal and assist on determiner.
"My feelings are only the best. The club has been waiting so long to get this trophy and I am very proud to be a part of this team. Thank you guys and our fantastic supporters," says Miroslav.
"The season is not over and we have to focus on the league finish. Nobody knows what can happen, we will fight until the very end for the championship as well. It´s not in our hands, but the chances are alive."
Czech league cup title is another remarkable achievement in Stoch´s career. "It´s my 7th trophy. My treasure. I took it home for a couple of days because I appreciate it very much," says Miňo, who holds trophies for English FA Cup (Chelsea), Dutch Eredivisie (FC Twente), Turkish league and two Turkish cups (Fenerbahce) as well as championship trophy from UAE with FC Al Ain.
Congratulations!

Autorské práva Football Service Agency (F.S.A., s.r.o., Mostná 60, 949 01 Nitra, IČO: 36 546 291). Všetky práva vyhradené. Akékoľvek použitie častí textu a citácií v inom ako uvedenom kontexte, ich rozmnožovanie a šírenie bez predchádzajúceho písomného súhlasu F.S.A., s.r.o. je zakázané.
Matches
Prev
Next

Czech republic
19 Nov 2018
UEFA Nations League
1:0
Miroslav Stoch: full time
Slovakia

Karvina
24 Nov 2018
Česká liga
1:3
Miroslav Stoch
: full time
Goal
Goal

Slavia

Bordeaux
29 Nov 2018
UEFA Europa League
2:0
Miroslav Stoch: 77 '

Slavia

Opava
3 Dec 2018
Česká liga
2:3
Miroslav Stoch: full time

Slavia

Slavia
8 Dec 2018
Česká liga
3:2
Miroslav Stoch
: full time
Goal
Goal+ assist. Man of the match!
Mlada Boleslav

Slavia
13 Dec 2018
UEFA Europa League
2:0
Miroslav Stoch
: 90 '
Goal
Goal,
Yellow card
Yellow card

Zenit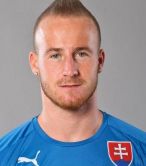 Miroslav Stoch
| | |
| --- | --- |
| Born | 19.10.1989 |
| Height | 168 cm |
| Weight | 64 kg |
| Post | winger |
| Club | SK Slavia Praha |
| | Player profile » |
Latest video
Miroslav Stoch - Goals against Dukla Prague and Slovan Liberec