Miroslav Stoch
powered by FSAgency.eu
Coach impressed by Miňo´s progress
Autor: FSA, 15.03.2018
Slavia´s manager Jindřich Trpišovský hopes Stoch can show his qualities in old-firm game.
Trpišovský is impressed with Miňo´s progress in recent period. "His fitness data and defensive skills have improved, rapidly. This is very important," says Slavia manager.
"Sure, we all want more points in his statistic records, but sometimes it´s not his failure. You could see the last game against Olomouc when he had some great shots. When the goalkeeper makes some excellent save, it´s usually against Miňo´s attempts. I am almost sure that if he keeps on doing like in last couple of months, his scoring record would grow," added Trpišovský.
"I am so happy to have Miroslav in the team. He has great talent and skills."

Autorské práva Football Service Agency (F.S.A., s.r.o., Mostná 60, 949 01 Nitra, IČO: 36 546 291). Všetky práva vyhradené. Akékoľvek použitie častí textu a citácií v inom ako uvedenom kontexte, ich rozmnožovanie a šírenie bez predchádzajúceho písomného súhlasu F.S.A., s.r.o. je zakázané.
Matches
Prev
Next

Slavia
20 Sep 2018
UEFA Europa League
1:0
Miroslav Stoch: 79 '

Bordeaux

Slavia
23 Sep 2018
Česká liga
1:0
Miroslav Stoch: 87 '
Bohemians
Ostrava
30 Sep 2018
Česká liga
2:1
Miroslav Stoch
: full time
Goal
Goal,
Yellow card
Yellow card

Slavia

Zenit
4 Oct 2018
UEFA Europa League
1:0
Miroslav Stoch: full time

Slavia

Slavia
7 Oct 2018
Česká liga
4:1
Miroslav Stoch
: full time
Goal
Goal+ goal assist
Pribram

Liberec
21 Oct 2018
Česká liga
0:1
Miroslav Stoch
: 90 '
Goal
Goal

Slavia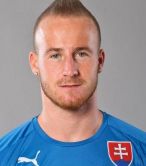 Miroslav Stoch
| | |
| --- | --- |
| Born | 19.10.1989 |
| Height | 168 cm |
| Weight | 64 kg |
| Post | winger |
| Club | SK Slavia Praha |
| | Player profile » |
Latest video
Miroslav Stoch - Long-range goal against Příbram