Miroslav Stoch
powered by FSAgency.eu
Big-game player
Autor: FSA, 19.03.2018
Miroslav Stoch scores his first goal for Slavia in Prague´s old-firm battle.
The game of two halves. Sparta were not able to cover their three goal advance from first half. It was Miroslav, who kept Slavia alive in 70th minute, scoring his first goal since signing for Czech giants. Saturday´s amazing game ended in 3-3 draw.
"It´s been disaster," comments Miroslav the first half. "We did not managed the game in a good way. Our plan was left somewhere in the cabine."
"After the interval it was different team from our side. From this point of view, final result is like a small win for us. Anyway, the game is still in my mind. I think we could make three points if we managed the first half better," says Miroslav, who scored first Slavia´s goal in the game.
"Thanks´s God I have finally scored. There was a cross and goalkeeper bounced the ball in front of me. I closed my eyes and fired," smiles Miňo, who was awarded Slavia´s best player of derby game. "I am so happy for the goal. My little son Tobias is celebrating his first birthday today, so this goal belongs to him," concluded happy daddy.
Pictured by Slavia.cz

Autorské práva Football Service Agency (F.S.A., s.r.o., Mostná 60, 949 01 Nitra, IČO: 36 546 291). Všetky práva vyhradené. Akékoľvek použitie častí textu a citácií v inom ako uvedenom kontexte, ich rozmnožovanie a šírenie bez predchádzajúceho písomného súhlasu F.S.A., s.r.o. je zakázané.
Matches
Prev
Next

Czech republic
19 Nov 2018
UEFA Nations League
1:0
Miroslav Stoch: full time
Slovakia

Karvina
24 Nov 2018
Česká liga
1:3
Miroslav Stoch
: full time
Goal
Goal

Slavia

Bordeaux
29 Nov 2018
UEFA Europa League
2:0
Miroslav Stoch: 77 '

Slavia

Opava
3 Dec 2018
Česká liga
2:3
Miroslav Stoch: full time

Slavia

Slavia
8 Dec 2018
Česká liga
3:2
Miroslav Stoch
: full time
Goal
Goal+ assist. Man of the match!
Mlada Boleslav

Slavia
13 Dec 2018
UEFA Europa League
2:0
Miroslav Stoch
: 90 '
Goal
Goal,
Yellow card
Yellow card

Zenit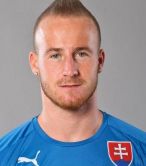 Miroslav Stoch
| | |
| --- | --- |
| Born | 19.10.1989 |
| Height | 168 cm |
| Weight | 64 kg |
| Post | winger |
| Club | SK Slavia Praha |
| | Player profile » |
Latest video
Miroslav Stoch - Goals against Dukla Prague and Slovan Liberec