Miroslav Stoch
powered by FSAgency.eu
Amazing goal against Shakhtar VIDEO
Autor: FSA, 03.02.2018
Miroslav Stoch scored on Saturday his 4th pre-seasonal goal in a big style - from halfway line.
Slavia are coming back from Arab Emirates, where they played few friendlies in order to get into best possible shape before the season turnover. In the last game they lost to Ukrainian giants from Donetsk 2-3, but it was Miroslav, who recorded another memorable goal in his career.
"We suffered some foul somewhere deeply on our half. I told my teammate to execute it quickly and pass the ball to me, because I could see that Shakhter´s keeper is more far from the net than usual. So I simply tried to fire and, you could see, the ball ended in the net," describes Miroslav his stunning long-range goal.
"I´ve been always dreaming about this kind of goal," admits Miroslav, who is looking forward to the beginning of the season´s 2nd leg.
Pictured by Slavia.cz

Autorské práva Football Service Agency (F.S.A., s.r.o., Mostná 60, 949 01 Nitra, IČO: 36 546 291). Všetky práva vyhradené. Akékoľvek použitie častí textu a citácií v inom ako uvedenom kontexte, ich rozmnožovanie a šírenie bez predchádzajúceho písomného súhlasu F.S.A., s.r.o. je zakázané.
Matches
Prev
Next

Czech republic
19 Nov 2018
UEFA Nations League
1:0
Miroslav Stoch: full time
Slovakia

Karvina
24 Nov 2018
Česká liga
1:3
Miroslav Stoch
: full time
Goal
Goal

Slavia

Bordeaux
29 Nov 2018
UEFA Europa League
2:0
Miroslav Stoch: 77 '

Slavia

Opava
3 Dec 2018
Česká liga
2:3
Miroslav Stoch: full time

Slavia

Slavia
8 Dec 2018
Česká liga
3:2
Miroslav Stoch
: full time
Goal
Goal+ assist. Man of the match!
Mlada Boleslav

Slavia
13 Dec 2018
UEFA Europa League
2:0
Miroslav Stoch
: 90 '
Goal
Goal,
Yellow card
Yellow card

Zenit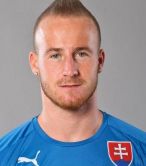 Miroslav Stoch
| | |
| --- | --- |
| Born | 19.10.1989 |
| Height | 168 cm |
| Weight | 64 kg |
| Post | winger |
| Club | SK Slavia Praha |
| | Player profile » |
Latest video
Miroslav Stoch - Goals against Dukla Prague and Slovan Liberec