Miroslav Stoch
powered by FSAgency.eu
Promotion still in our hands
Autor: FSA, 04.11.2017
Slavia Prague suffered 0-2 home loss to Spanish Villarreal, but still look ahead for summer play-offs.
Recent 2-2 draw in Villarreal gave Slavia more confidence to make some more points in front of home fans, celebrating 125 years of the club.
"The game was absoultely different," compares Stoch.
"Spanish side took the lead quite early and took control of the game. I think we were better in second half, but still missed some good opportunities to level the score. We are sorry for the result, but we hold the ticket for play-offs in our hands. And we will fight for it, definitely," added Miroslav.
There are still two games remaining in group stage. Slavia stay 3rd with 2 and 3 points behind second Astana and first Villarreal, respectively.

Picture: SK Slavia

Autorské práva Football Service Agency (F.S.A., s.r.o., Mostná 60, 949 01 Nitra, IČO: 36 546 291). Všetky práva vyhradené. Akékoľvek použitie častí textu a citácií v inom ako uvedenom kontexte, ich rozmnožovanie a šírenie bez predchádzajúceho písomného súhlasu F.S.A., s.r.o. je zakázané.
Matches
Prev
Next

Karvina
24 Nov 2018
Česká liga
1:3
Miroslav Stoch
: full time
Goal
Goal

Slavia

Bordeaux
29 Nov 2018
UEFA Europa League
2:0
Miroslav Stoch: 77 '

Slavia

Opava
3 Dec 2018
Česká liga
2:3
Miroslav Stoch: full time

Slavia

Slavia
8 Dec 2018
Česká liga
3:2
Miroslav Stoch
: full time
Goal
Goal+ assist. Man of the match!
Mlada Boleslav

Slavia
13 Dec 2018
UEFA Europa League
2:0
Miroslav Stoch
: 90 '
Goal
Goal,
Yellow card
Yellow card

Zenit

Slavia
10 Feb 2019
Česká liga
2:0
Miroslav Stoch: 46 'goal assist

Teplice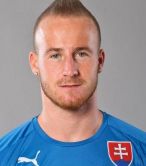 Miroslav Stoch
| | |
| --- | --- |
| Born | 19.10.1989 |
| Height | 168 cm |
| Weight | 64 kg |
| Post | winger |
| Club | SK Slavia Praha |
| | Player profile » |
Latest video
Miroslav Stoch - Goals against Dukla Prague and Slovan Liberec