Miroslav Stoch
powered by FSAgency.eu
Stoch shines in derby
Autor: FSA, 19.09.2017
Miroslav Stoch was best rated player in Prague´s old firm battle.
Slavia fans call him best summer signing and Miroslav rewards them with good performance. 288th clash between Slavia and Sparta took place in Eden last Sunday. Miroslav played fulltime and assisted on crucial opening goal.
"We are happy to win the game, therefore my feelings are only the best. I felt really well on the pitch and the only thing I am sorry about is that I did not score goal. I had one chance and some attempts on target, but I do believe it will happen soon," says Miroslav, who was the best rated player according to InStat platform.
"We scored another goal, which was wrongly disallowed, so the final scoure could be different. But this is history now, we are happy for three points and focus on next games."
"I love derby games, because they are always special. Great crowd is pushing you forward. Our fans were great. Thanks for the support," says Stoch, who is enjoying fine portion of minutes and this is what he was looking for when he left Turkey.
"Sure, I am very happy for that. At the beginning was not so easy, because many new players have come and you always need some time to get used for new place and these things."
Stoch´s agent Milan Lednický, who attended the game, was happy with the performance of his player.
"Slavia have managed the second half better and made the victory. Miroslav´s performance showed his joy of playing football," says Lednický. "I also spoke to Slavia´s manager and we agreed that the only thing Miroslav was missing is game practice. Slavia is giving him a chance and I hope Miro will keep on playing well like Sunday night."

Autorské práva Football Service Agency (F.S.A., s.r.o., Mostná 60, 949 01 Nitra, IČO: 36 546 291). Všetky práva vyhradené. Akékoľvek použitie častí textu a citácií v inom ako uvedenom kontexte, ich rozmnožovanie a šírenie bez predchádzajúceho písomného súhlasu F.S.A., s.r.o. je zakázané.
Matches
Prev
Next

Czech republic
19 Nov 2018
UEFA Nations League
1:0
Miroslav Stoch: full time
Slovakia

Karvina
24 Nov 2018
Česká liga
1:3
Miroslav Stoch
: full time
Goal
Goal

Slavia

Bordeaux
29 Nov 2018
UEFA Europa League
2:0
Miroslav Stoch: 77 '

Slavia

Opava
3 Dec 2018
Česká liga
2:3
Miroslav Stoch: full time

Slavia

Slavia
8 Dec 2018
Česká liga
3:2
Miroslav Stoch
: full time
Goal
Goal+ assist. Man of the match!
Mlada Boleslav

Slavia
13 Dec 2018
UEFA Europa League
2:0
Miroslav Stoch
: 90 '
Goal
Goal,
Yellow card
Yellow card

Zenit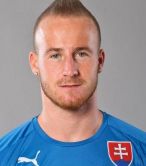 Miroslav Stoch
| | |
| --- | --- |
| Born | 19.10.1989 |
| Height | 168 cm |
| Weight | 64 kg |
| Post | winger |
| Club | SK Slavia Praha |
| | Player profile » |
Latest video
Miroslav Stoch - Goals against Dukla Prague and Slovan Liberec