Miroslav Stoch
powered by FSAgency.eu
Stoch sign for Slavia
Autor: FSA, 12.08.2017
Miroslav Stoch has agreed on two years deal with Czech defending champion Slavia Prague.
Slovak winger is determined to help his new team defend Czech title and get into group stage of UEFA Champions league.
"I am so happy that the deal was successfully done. It´s new challenge for me and I can´t wait the first game for my new team," says Miroslav Stoch after completing his 2-years contract with Prague giants.
"First of all I want to win the Czech league and help my team to get through the play-offs for Champions league. I have never played the group stage of this competition," admits new Slavia signing.
"From my point of view is very important to play regularly. I hope that both me and Slavia will profit from our cooperation," concluded former Fenerbahce winger.
There was still one year left on Stoch´s contract with Turkish club. The details of the move were revealed by player´s agent Milan Lednický.
"We were trying to find a club, where Miňo could have a real chance to play regularly. This was our priority. There were several clubs from more countries interested, but Miňo picked Slavia because of their top ambitions and UEFA competitions. It was not easy to find a conclusion, but finally we did and the player could go. I would like to thank Fenerbahce that they let Miroslav change the club," says Lednický.
Slavia´s GM Martin Krob was so happy to welcome Miroslav in Slavia headquarters on Friday evening. "It is not neccessarry to introduce you our new signing, because everybody here knows Miňo very well," started Krob the official press conference.
"The negotiations were ongoing for a longer period. Finally we agreed on terms and my thanks go to Mr Lednický and Turkish club. Now, we are delighted to announce that Miroslav joined our team," says Krob, who is doing his best to add Miňo on team´s roster for Champions league play-off round against APOEL Nicosia.
Miroslav earned 123 appearances for Fenerbahce since signing in 2010. For this period, he made 19 goal assits and scored 20 mostly incredible goals, the most famous one awarded by FIFA Puskás Award in 2012. Miroslav won the Turkish League in 2011 and twice Turkish Cup (2012, 2013).
Good luck in new team!

Picture: idnes.cz

Autorské práva Football Service Agency (F.S.A., s.r.o., Mostná 60, 949 01 Nitra, IČO: 36 546 291). Všetky práva vyhradené. Akékoľvek použitie častí textu a citácií v inom ako uvedenom kontexte, ich rozmnožovanie a šírenie bez predchádzajúceho písomného súhlasu F.S.A., s.r.o. je zakázané.
Matches
Prev
Next

Genk
21 Feb 2019
UEFA Europa League
1:4
Miroslav Stoch: 63 '2 goal assists!

Slavia

Slavia
25 Feb 2019
Česká liga
4:0
Miroslav Stoch: full time2 goal assists!

Slovacko

FC Sevilla
7 Mar 2019
UEFA Europa League
2:2
Miroslav Stoch
: full time
Goal
Goal+ goal assist !

Slavia

Slavia
14 Mar 2019
UEFA Europa League
4:3 AET
Miroslav Stoch: 93 '

FC Sevilla
Slovakia
21 Mar 2019
Team Slovakia
2:0
Miroslav Stoch: 79 '

Hungari

Slavia
11 Apr 2019
UEFA Europa League
0:1
Miroslav Stoch: 65 '

Chelsea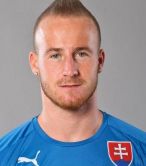 Miroslav Stoch
| | |
| --- | --- |
| Born | 19.10.1989 |
| Height | 168 cm |
| Weight | 64 kg |
| Post | winger |
| Club | SK Slavia Praha |
| | Player profile » |
Latest video
Miroslav Stoch - Goals against Dukla Prague and Slovan Liberec