Miroslav Stoch
powered by FSAgency.eu
Love-You-Stoch for Miroslav VIDEO
Autor: FSA, Zdroj: FOTO fenerbahce.org, 10.08.2017
Fenerbahce has won the last friendly game against Italian side Cagliari Calcio.
Fenerbahce are boosting their shape before Turkish league´s kick-off. 1-0 victory against Serie A participant gave Aykut Kocaman side fine portion of confidence before Süperlig´s opening matchday.
Miroslav Stoch could open the score few minutes before the interval, but Italian U21-international goalkeeper Alessio denied his attempt from inside of the box.
Fenerbahce Stadium was signing "Love You Stoch" when Miroslav was called off the pitch in twenty minutes remaining. A bond between him and the fans is special. "Miňo" is one of the longest serving player in Fenerbahce squad and it´s not uncommon to see him wearing captain armband.



Autorské práva Football Service Agency (F.S.A., s.r.o., Mostná 60, 949 01 Nitra, IČO: 36 546 291). Všetky práva vyhradené. Akékoľvek použitie častí textu a citácií v inom ako uvedenom kontexte, ich rozmnožovanie a šírenie bez predchádzajúceho písomného súhlasu F.S.A., s.r.o. je zakázané.
Matches
Prev
Next

Genk
21 Feb 2019
UEFA Europa League
1:4
Miroslav Stoch: 63 '2 goal assists!

Slavia

Slavia
25 Feb 2019
Česká liga
4:0
Miroslav Stoch: full time2 goal assists!

Slovacko

FC Sevilla
7 Mar 2019
UEFA Europa League
2:2
Miroslav Stoch
: full time
Goal
Goal+ goal assist !

Slavia

Slavia
14 Mar 2019
UEFA Europa League
4:3 AET
Miroslav Stoch: 93 '

FC Sevilla
Slovakia
21 Mar 2019
Team Slovakia
2:0
Miroslav Stoch: 79 '

Hungari

Slavia
11 Apr 2019
UEFA Europa League
0:1
Miroslav Stoch: 65 '

Chelsea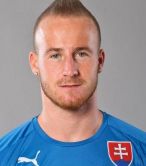 Miroslav Stoch
| | |
| --- | --- |
| Born | 19.10.1989 |
| Height | 168 cm |
| Weight | 64 kg |
| Post | winger |
| Club | SK Slavia Praha |
| | Player profile » |
Latest video
Miroslav Stoch - Goals against Dukla Prague and Slovan Liberec