Miroslav Stoch
powered by FSAgency.eu
Amazing free kick goal VIDEO
Autor: FSA, 20.07.2017
Pre-season: Miroslav Stoch has scored another masterpiece against Monaco.
One could doubt if he is able to score normal goal. Miroslav Stoch´s equalizer against French giant AS Monaco became one of the highlights of Fenerbahce´s training camp in Switzerland.
Aykut Kocaman side finished pre-season with tight losses against Juventus Bucharest (2-3), Sporting Lisabon (1-2) and Olympique Marseille (0-1) and draws with Athletic Bilbao (0-0) and AS Monaco (1-1).

Pictured by Fenerbahce.org



Autorské práva Football Service Agency (F.S.A., s.r.o., Mostná 60, 949 01 Nitra, IČO: 36 546 291). Všetky práva vyhradené. Akékoľvek použitie častí textu a citácií v inom ako uvedenom kontexte, ich rozmnožovanie a šírenie bez predchádzajúceho písomného súhlasu F.S.A., s.r.o. je zakázané.
Matches
Prev
Next

Slavia
20 Sep 2018
UEFA Europa League
1:0
Miroslav Stoch: 79 '

Bordeaux

Slavia
23 Sep 2018
Česká liga
1:0
Miroslav Stoch: 87 '
Bohemians
Ostrava
30 Sep 2018
Česká liga
2:1
Miroslav Stoch
: full time
Goal
Goal,
Yellow card
Yellow card

Slavia

Zenit
4 Oct 2018
UEFA Europa League
1:0
Miroslav Stoch: full time

Slavia

Slavia
7 Oct 2018
Česká liga
4:1
Miroslav Stoch
: full time
Goal
Goal+ goal assist
Pribram

Liberec
21 Oct 2018
Česká liga
0:1
Miroslav Stoch
: 90 '
Goal
Goal

Slavia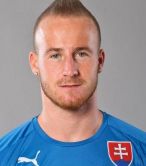 Miroslav Stoch
| | |
| --- | --- |
| Born | 19.10.1989 |
| Height | 168 cm |
| Weight | 64 kg |
| Post | winger |
| Club | SK Slavia Praha |
| | Player profile » |
Latest video
Miroslav Stoch - Long-range goal against Příbram