Miroslav Stoch
powered by FSAgency.eu
Welcome home, Tobias
Autor: FSA, 29.03.2017
The most beautiful gift has finally arrived to happy couple´s Istanbul residence.
"I could not wait the moment when our treasure arrives home. We are so happy. I believe that we would be the best parents for our little Tobias," says Miroslav together with his fiancée Pauli Bedžetiová, who gave birth to Tobias early morning on 17th March in Istanbul.
Congratulations!

Autorské práva Football Service Agency (F.S.A., s.r.o., Mostná 60, 949 01 Nitra, IČO: 36 546 291). Všetky práva vyhradené. Akékoľvek použitie častí textu a citácií v inom ako uvedenom kontexte, ich rozmnožovanie a šírenie bez predchádzajúceho písomného súhlasu F.S.A., s.r.o. je zakázané.
Matches
Prev
Next

Slavia
20 Sep 2018
UEFA Europa League
1:0
Miroslav Stoch: 79 '

Bordeaux

Slavia
23 Sep 2018
Česká liga
1:0
Miroslav Stoch: 87 '
Bohemians
Ostrava
30 Sep 2018
Česká liga
2:1
Miroslav Stoch
: full time
Goal
Goal,
Yellow card
Yellow card

Slavia

Zenit
4 Oct 2018
UEFA Europa League
1:0
Miroslav Stoch: full time

Slavia

Slavia
7 Oct 2018
Česká liga
4:1
Miroslav Stoch
: full time
Goal
Goal+ goal assist
Pribram

Liberec
21 Oct 2018
Česká liga
0:1
Miroslav Stoch
: 90 '
Goal
Goal

Slavia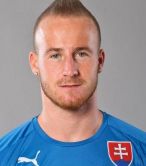 Miroslav Stoch
| | |
| --- | --- |
| Born | 19.10.1989 |
| Height | 168 cm |
| Weight | 64 kg |
| Post | winger |
| Club | SK Slavia Praha |
| | Player profile » |
Latest video
Miroslav Stoch - Long-range goal against Příbram