Miroslav Stoch
powered by FSAgency.eu
Stoch´s wonder goal
Autor: FSA, 25.11.2016
Slovak winger refused goalless draw in Europa League clash against Zorya Luhansk.
Fenerbahce´s number 99 has come into the pitch after the interval and few minutes after he managed to open the score. Ukrainian goalkeeper got his fingertips on Stoch´s 35-metre range shot, but could not prevent it from hitting the back of the net. What a goal!
"First of all we are very happy to secure three points from this game. We knew it would be difficult, first game in Ukraine was very hard and we saved point in last minute. I think the second half was good, we scored twice and that´s why we have won," says Miroslav, who came in as the first substitute in 46th minute.
"I am happy for this chance, even for 45 minutes. The period when I was not playing was really difficult for me, but I was concentrating on myself, because I always try to do the best when I get on the field. Obviously it is not easy to be regular, we have many great players to play upfront, but everything what I can do is work hard," added Stoch.

Foto: Reuters

Autorské práva Football Service Agency (F.S.A., s.r.o., Mostná 60, 949 01 Nitra, IČO: 36 546 291). Všetky práva vyhradené. Akékoľvek použitie častí textu a citácií v inom ako uvedenom kontexte, ich rozmnožovanie a šírenie bez predchádzajúceho písomného súhlasu F.S.A., s.r.o. je zakázané.
Matches
Prev
Next

Slavia
20 Sep 2018
UEFA Europa League
1:0
Miroslav Stoch: 79 '

Bordeaux

Slavia
23 Sep 2018
Česká liga
1:0
Miroslav Stoch: 87 '
Bohemians
Ostrava
30 Sep 2018
Česká liga
2:1
Miroslav Stoch
: full time
Goal
Goal,
Yellow card
Yellow card

Slavia

Zenit
4 Oct 2018
UEFA Europa League
1:0
Miroslav Stoch: full time

Slavia

Slavia
7 Oct 2018
Česká liga
4:1
Miroslav Stoch
: full time
Goal
Goal+ goal assist
Pribram

Liberec
21 Oct 2018
Česká liga
0:1
Miroslav Stoch
: 90 '
Goal
Goal

Slavia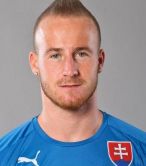 Miroslav Stoch
| | |
| --- | --- |
| Born | 19.10.1989 |
| Height | 168 cm |
| Weight | 64 kg |
| Post | winger |
| Club | SK Slavia Praha |
| | Player profile » |
Latest video
Miroslav Stoch - Long-range goal against Příbram