Miroslav Stoch
powered by FSAgency.eu
Stoch´s great double
Autor: FSA, 19.08.2016
Miroslav Stoch scored two goals within 25 minutes, giving his Fenerbahce comfortable 3-goal lead before 2nd leg in Grasshoppers Zurich.
"It´s been a longer time since I scored last goal for Fenerbahce. Now I am very happy to make the double, especially in front of our fantastic fans. Our new manager gave me more time on the pitch and I think two goals were a good revenge for this," says Miroslav after 1st leg 3-0 victory. Stoch scored just few minutes after being sent in, giving his team crucial two goal advance. The fans will remember his magnificent second goal from injury time, when Miroslav shot from outside of the box to the left hand top corner.
"Despite comfortable lead, this is just the halftime. We know what the score was, but have to confirm this in Zurich. Our position is more than good," added Slovak international, who is looking forward to beginning of Turkish league this weekend.
"The championship is about to start and this is what we were waiting for. The first game against Basaksehir will be very important."

Picture: Fenerbahce.org

Autorské práva Football Service Agency (F.S.A., s.r.o., Mostná 60, 949 01 Nitra, IČO: 36 546 291). Všetky práva vyhradené. Akékoľvek použitie častí textu a citácií v inom ako uvedenom kontexte, ich rozmnožovanie a šírenie bez predchádzajúceho písomného súhlasu F.S.A., s.r.o. je zakázané.
Matches
Prev
Next
Brno
7 Apr 2018
Česká liga
0:1
Miroslav Stoch: 83 '

Slavia

Slavia
13 Apr 2018
Česká liga
3:2
Miroslav Stoch
: full time
Goal
Goal
GOALSMan of the match

Karvina
FK Jablonec
9 May 2018
Český pohár
1:3
Miroslav Stoch
: full time
Goal
Goal+ assist CUP-WINNER

Slavia

Dukla Praha
14 May 2018
Česká liga
0:2
Miroslav Stoch
: full time
Goal
Goal

Slavia

Slavia
19 May 2018
Český pohár
1:3
Miroslav Stoch: full timegoal assist
FK Jablonec

Teplice
26 May 2018
Česká liga
0:3
Miroslav Stoch: full time

Slavia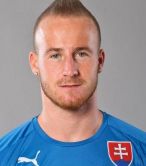 Miroslav Stoch
| | |
| --- | --- |
| Born | 19.10.1989 |
| Height | 168 cm |
| Weight | 64 kg |
| Post | winger |
| Club | SK Slavia Praha |
| | Player profile » |
Latest video
Miroslav Stoch - Amazing long-range goal against Shakhtar