Miroslav Stoch
powered by FSAgency.eu
Back to Fenerbahce
Autor: FSA, Zdroj: foto: Fenerbahce, 11.07.2016
Miroslav Stoch joined his mature team Fenerbahce Istanbul.
After undergoing medical, Miroslav had his first training session with Yellow Canaries. Istanbul giants have several international friendlies coming - Panathinaikos, Olympique Lyonnais and next Tuesday against Czech Sparta Prague, which will be the last pre-season game.

On July 15th, the opponent in Champions League´s 3rd round will be drawn.

Autorské práva Football Service Agency (F.S.A., s.r.o., Mostná 60, 949 01 Nitra, IČO: 36 546 291). Všetky práva vyhradené. Akékoľvek použitie častí textu a citácií v inom ako uvedenom kontexte, ich rozmnožovanie a šírenie bez predchádzajúceho písomného súhlasu F.S.A., s.r.o. je zakázané.
Matches
Prev
Next

Sparta
17 Mar 2018
Česká liga
3:3
Miroslav Stoch
: full time
Goal
Goal

Slavia

Slavia
1 Apr 2018
Česká liga
1:2
Miroslav Stoch: 84 '

Zlín
Brno
7 Apr 2018
Česká liga
0:1
Miroslav Stoch: 83 '

Slavia

Slavia
13 Apr 2018
Česká liga
3:2
Miroslav Stoch
: full time
Goal
Goal
GOALSMan of the match

Karvina
FK Jablonec
9 May 2018
Český pohár
1:3
Miroslav Stoch
: full time
Goal
Goal+ assist CUP-WINNER

Slavia

Dukla Praha
14 May 2018
Česká liga
0:2
Miroslav Stoch
: full time
Goal
Goal

Slavia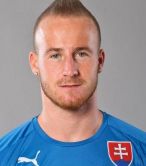 Miroslav Stoch
| | |
| --- | --- |
| Born | 19.10.1989 |
| Height | 168 cm |
| Weight | 64 kg |
| Post | winger |
| Club | SK Slavia Praha |
| | Player profile » |
Latest video
Miroslav Stoch - Amazing long-range goal against Shakhtar