Miroslav Stoch
powered by FSAgency.eu
Stoch: Let´s go!
Autor: FSA, 11.06.2016
Slovakians make their European championship debut on Saturday evening.
Day before the first game against Wales, Stoch and company have moved from their French home Vichy to Bordeaux.
"We can not wait the first game. I hope that we can take our confidence from qualifying race and couple of friendlies into the group stage. Our minds are set only to Wales, because the first game on the tournament is usually very important. Hopefully, we can make good result," says Stoch, who is not thinking about Russia or England, the next opponents.
"Step by step, match by match. We focus only on upcoming game. Nobody knows what result would be. What we know is that we have to put in all efforts to be successfull. Tournament is coming, so let´s go," added Fenerbahce player, who spent last season on loan in Bursaspor.

Autorské práva Football Service Agency (F.S.A., s.r.o., Mostná 60, 949 01 Nitra, IČO: 36 546 291). Všetky práva vyhradené. Akékoľvek použitie častí textu a citácií v inom ako uvedenom kontexte, ich rozmnožovanie a šírenie bez predchádzajúceho písomného súhlasu F.S.A., s.r.o. je zakázané.
Matches
Prev
Next

Sparta
17 Mar 2018
Česká liga
3:3
Miroslav Stoch
: full time
Goal
Goal

Slavia

Slavia
1 Apr 2018
Česká liga
1:2
Miroslav Stoch: 84 '

Zlín
Brno
7 Apr 2018
Česká liga
0:1
Miroslav Stoch: 83 '

Slavia

Slavia
13 Apr 2018
Česká liga
3:2
Miroslav Stoch
: full time
Goal
Goal
GOALSMan of the match

Karvina
FK Jablonec
9 May 2018
Český pohár
1:3
Miroslav Stoch
: full time
Goal
Goal+ assist CUP-WINNER

Slavia

Dukla Praha
14 May 2018
Česká liga
0:2
Miroslav Stoch
: full time
Goal
Goal

Slavia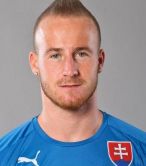 Miroslav Stoch
| | |
| --- | --- |
| Born | 19.10.1989 |
| Height | 168 cm |
| Weight | 64 kg |
| Post | winger |
| Club | SK Slavia Praha |
| | Player profile » |
Latest video
Miroslav Stoch - Amazing long-range goal against Shakhtar