Miroslav Stoch
powered by FSAgency.eu
6th international goal
Autor: FSA, 30.03.2016
Miroslav scores in international friendly against Ireland, giving Slovakia early lead.
Game held in Dublin ended in 2-2 draw. "Our aim was to play good football and make good result. Irish team is known of their strength at home stadium, despite this we scored the opening goal. Erik Sabo made good run down the right side and gave me a perfect pass into the box. I shot with first touch," describes Miroslav his 6th goal for team Slovakia.
"Last time I scored against Spain in the qualifying race, so I was very happy. Unfortunately, we lost the tight lead because of strict penalty. Despite all of this I think that 2-2 is not bad result in Ireland," added Slovak winger, who missed a good opportunity in second half.

Pictured by Reuters

Autorské práva Football Service Agency (F.S.A., s.r.o., Mostná 60, 949 01 Nitra, IČO: 36 546 291). Všetky práva vyhradené. Akékoľvek použitie častí textu a citácií v inom ako uvedenom kontexte, ich rozmnožovanie a šírenie bez predchádzajúceho písomného súhlasu F.S.A., s.r.o. je zakázané.
Matches
Prev
Next
Brno
7 Apr 2018
Česká liga
0:1
Miroslav Stoch: 83 '

Slavia

Slavia
13 Apr 2018
Česká liga
3:2
Miroslav Stoch
: full time
Goal
Goal
GOALSMan of the match

Karvina
FK Jablonec
9 May 2018
Český pohár
1:3
Miroslav Stoch
: full time
Goal
Goal+ assist CUP-WINNER

Slavia

Dukla Praha
14 May 2018
Česká liga
0:2
Miroslav Stoch
: full time
Goal
Goal

Slavia

Slavia
19 May 2018
Český pohár
1:3
Miroslav Stoch: full timegoal assist
FK Jablonec

Teplice
26 May 2018
Česká liga
0:3
Miroslav Stoch: full time

Slavia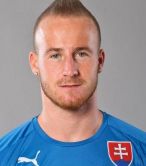 Miroslav Stoch
| | |
| --- | --- |
| Born | 19.10.1989 |
| Height | 168 cm |
| Weight | 64 kg |
| Post | winger |
| Club | SK Slavia Praha |
| | Player profile » |
Latest video
Miroslav Stoch - Amazing long-range goal against Shakhtar