Miroslav Stoch
powered by FSAgency.eu
Great game at new stadium
Autor: FSA, 18.01.2016
Miroslav Stoch was involved in three goals against Trabzonspor (4-2).
Bursaspor were looking forward to open their new 45k stadium in an unforgettable style. Although it was a bit complicated in the early beginning, finally they did.

"We were two goals down just after seven or eight minutes. But after that, it was our game. We equalized before the interval and then scored another two. Thanks to our great fans, who were pushing us forward all the time in our beautiful new stadium," says Miroslav, feeling happy to break his unfortune from season´s 1st leg.

"After longer period, I finally scored in the cup game and now I was involved in three goals. Anyway, the most important is final score. Our team is improving," added Stoch.

"The first half of the season was not good, everybody knows that. Our results did not reflect the quality of the team. Some things have changed, club appointed new manager and now we have some good results in a row."

Miroslav started playing in different position. "During the short mid-season, I was playing more in the middle of the pitch. As a central midfield, or offensive, just behind the striker. Or I switch my position during the game. I feel quite good there, have more touches with ball, can try to make the game in front of me, so we will see how it goes next games."

Autorské práva Football Service Agency (F.S.A., s.r.o., Mostná 60, 949 01 Nitra, IČO: 36 546 291). Všetky práva vyhradené. Akékoľvek použitie častí textu a citácií v inom ako uvedenom kontexte, ich rozmnožovanie a šírenie bez predchádzajúceho písomného súhlasu F.S.A., s.r.o. je zakázané.
Matches
Prev
Next
Brno
7 Apr 2018
Česká liga
0:1
Miroslav Stoch: 83 '

Slavia

Slavia
13 Apr 2018
Česká liga
3:2
Miroslav Stoch
: full time
Goal
Goal
GOALSMan of the match

Karvina
FK Jablonec
9 May 2018
Český pohár
1:3
Miroslav Stoch
: full time
Goal
Goal+ assist CUP-WINNER

Slavia

Dukla Praha
14 May 2018
Česká liga
0:2
Miroslav Stoch
: full time
Goal
Goal

Slavia

Slavia
19 May 2018
Český pohár
1:3
Miroslav Stoch: full timegoal assist
FK Jablonec

Teplice
26 May 2018
Česká liga
0:3
Miroslav Stoch: full time

Slavia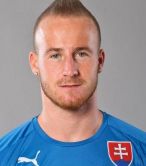 Miroslav Stoch
| | |
| --- | --- |
| Born | 19.10.1989 |
| Height | 168 cm |
| Weight | 64 kg |
| Post | winger |
| Club | SK Slavia Praha |
| | Player profile » |
Latest video
Miroslav Stoch - Amazing long-range goal against Shakhtar