Miroslav Stoch
powered by FSAgency.eu
Archive
Miňo managed Slavia´s turnover in Fridays game against Karviná (3-2), scoring two and adding assist.
Miroslav Stoch scores his first goal for Slavia in Prague´s old-firm battle.
Slavia´s manager Jindřich Trpišovský hopes Stoch can show his qualities in old-firm game.
Miroslav Stoch scored on Saturday his 4th pre-seasonal goal in a big style - from halfway line.
Slavia Prague suffered 0-2 home loss to Spanish Villarreal, but still look ahead for summer play-offs.
Miroslav Stoch was best rated player in Prague´s old firm battle.
Matches
Prev
Next

Slavia
7 Mar 2018
Český pohár
2:0
Miroslav Stoch: full time

Liberec

Slavia
11 Mar 2018
Česká liga
3:1
Miroslav Stoch
: full time
Yellow card
Yellow card

Olomouc

Sparta
17 Mar 2018
Česká liga
3:3
Miroslav Stoch
: full time
Goal
Goal

Slavia

Slavia
1 Apr 2018
Česká liga
1:2
Miroslav Stoch: 84 '

Zlín
Brno
7 Apr 2018
Česká liga
0:1
Miroslav Stoch: 83 '

Slavia

Slavia
13 Apr 2018
Česká liga
3:2
Miroslav Stoch
: full time
Goal
Goal
GOALSMan of the match

Karvina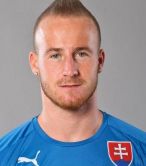 Miroslav Stoch
| | |
| --- | --- |
| Born | 19.10.1989 |
| Height | 168 cm |
| Weight | 64 kg |
| Post | winger |
| Club | SK Slavia Praha |
| | Player profile » |
Latest video
Miroslav Stoch - Amazing long-range goal against Shakhtar